Introduction to the Paasche Talon Airbrush:
Paasche Talon airbrush Review: Paasche is an American company founded in 1904 base in Wisconsin. Paasche is known for its quality products made at very good price.
The Paashe Talon Airbrush is a double action gravity feed, internal mix airbrush with a cutaway handle that comes comes with 3 needle/nozzle size (.25mm, .38mm & .66mm heads) depending the combo you buy. The Paasche Talon airbrush has a large .4oz cup (11.8 ml) and an aluminium lid.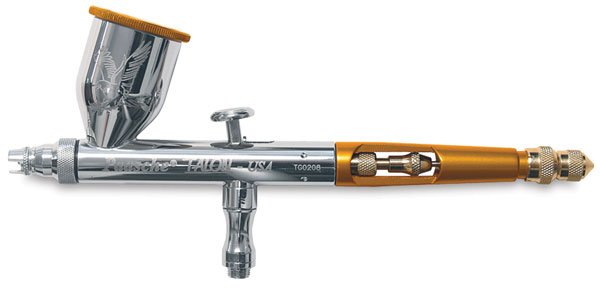 As I said above, the Paasche Talon airbrush is very well price. You can buy the Paasche Talon airbrush for between 75 $ for the Paasche Talon only with with 38mm head and 150$ for the Paasche Talon airbrush with three head sizes and fan aircap (. 25mm, . 38mm, . 66mm)on in beautiful deluxe wooden case.
If you can afford this version with the three needles size and the air cap I would recommend it, fan cap c
TG-1AS: This bundle comes with the Paasche Talon airbrush (TG#2) with a .38mm head, a 6ft Braided Hose, wrench , allen wrench,an airbrush holder and an airbrush lesson booklet.
TG-3AS Set Includes:
The Paasche Talon airbrush(TG#2) Double Action Airbrush ( .4 oz cup,Cup Cover,Size 1 and 3 Heads,(. 25mm, . 66mm) Fan Aircap, a Hanger, 1/8BSP Adapter, (2) Wrenches, 6ft braided hose, lessons booklet and manual.
TG-3WC Set: This set includes the Paasche Talon Airbrush , a nice Wood Case, a large 4 oz. cup, Cup Cover, and the three head sizes and fan aircap (. 25mm, . 38mm, . 66mm), an Airbrush holder or Hanger, 2 Wrenches, 6ft Braided Hose, an airbrush lessons Booklet and Manual.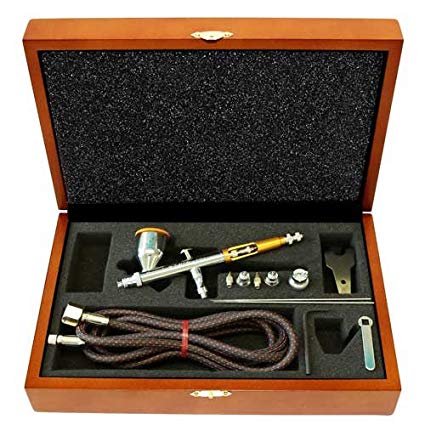 Paasche talon Airbrush Top Features:
The Paasche Talon is made in USA ! So getting spare/replacement parts is easy and fast.
Quality Precision materials for fine detail work
Cut away handle with Pre-set Needle Stop
Highly polished & hardened stainless steel needles for long life and reduced clogging
Solvent proof needle packing allow spraying of water & solvent based paints
Chrome plated body
Check Price on Amazon
First impression: Paasche Talon Airbrush review
The Talon looks great, Feels right
The Paasche Talon airbrush has a nice chrome plated finish and an anodized aluminum handle in a nice brushed brass color. Overall, I think the Paashe Talon airbrush looks beautiful.
The Paasche talon Airbrush feels the right weight too. At first, I was slightly worried when I first saw the size of the cup. But the fact that the handle is made of light aluminium and has a large cutout really help reduce the weight of the Talon and makes the Paasche Talon Airbrush a well balanced airbrush.
The trigger action feels nice and confortable. This is no doubt helped by the fact that the hardened stainless steel needles are highly polished. Something you wont find on cheap Chinese airbrush.
Note that the Paasche parts are compatible across the entire Talon line including the Vision and Raptor range. Therefore you could use Paasche's smallest .2mm head to get even smaller lines.
Some people find the Talon's trigger a bit uncomfortable. You could replace the Talon's trigger with Vision's trigger (TGX-106). It has a slopped trigger that has ridges at the top.
If you feel that the cup is too big, you could get a smaller cup from the Paasche Raptor or Vision line.
This is really a huge advantage if you have several Paasche Airbrush models.
Cutaway handle & Needle stop
The cut-out on the handle allows you to access the needle chuck. When or if the brush gets clogged up, you are able to pull the needle back and flush without having to remove the handle. You can also change the tension of the trigger. Nice feature.
In addition, the Paasche Talon airbrush has a needle stop at the rear of the brush. Use that to limit the amount of paint that goes through the nozzle. This is great to avoid accidental overspray that could end up in spidering or unwanted blotches on the surface your paintwork.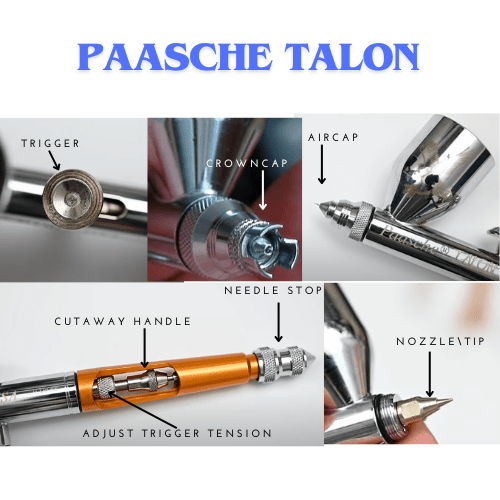 Large .4oz cup
The Paasche Talon Airbrush has a large 0.4oz (11.8ml) cup. The cup is emblazoned with a stunning engraved Eagle. (note that the claws of a bald eagle, and other birds of prey are called talon). It really gives the Paasche Talon Airbrush a superb look. In addition, the Paasche Talon airbrush is shipped also with an aluminium lid that fits well.Handy to avoid any spillage while airbrushing.
Three needle\tip size
The needle is protected by a crown type cap, which may be removed if you need to get in closer.
Depending which combos option you purchase, the Paasche talon airbrush comes with 3 needle/nozzle size (.25mm, .38mm & .66mm heads).
I really like the fact that the three the Paasche Talon Airbrush uses a straight forward system of lines to differentiate between needle / nozzle / crown cap sizes:
A single line is visible on the 0.25mm, 2 lines are visible on the 0.38mm and 3 lines are showing on the 0.66mm. This will help you match them up. I find that great.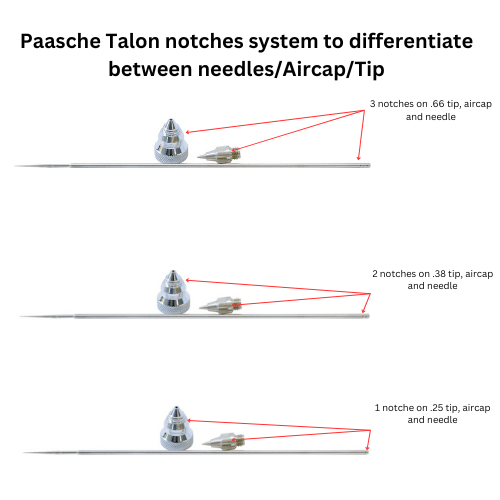 The nozzles of the Paasche Talon airbrush are rather big compared to the ones from other airbrush I have. As a result, this will greatly decrease the chance of loosing them when they drop on the floor.
The one thing I don t like is that this airbrush comes with its own proprietary thread size for connecting to the air hose. That 1/8″BPS Adapter (Paasche Airbrush to 1/8BPS Hose) is included if you buy the TG-3AS set.
Overall my first impression is very positive. The Paasche Talon Airbrush looks and feel like solid quality build. Very for the price!
Paasche Talon Airbrush review: Performance
The .25 needle\tip will allow to spray really thin hair like lines. Perfect for fine details work. Of course you need to thin you paint properly for that. 20-30 PSI would be the best for detail spraying.
The .38mm needle\nozzle is the head size that come with the Talon when you buy it on its own.. Good for most spraying, will give you more coverage. The .38 tip is able to handle ticker paint and also you will still be able to spray some thin lines. Excellent size for general use airbrush.
The .66 tip can be used with much thicker acrylic paint or with metallics. With this needle\nozzle size, the large cup can be emptied in a matter of seconds. Great for large spray application like automotive, priming, painting t-shirt etc…
If you buy either he TG-3AS Set set or the TG-3WC Set , they come along with a fan aircap that you can use with the .66 tip. This will allow you to spray lines up to 3 inches wide. It will spray a bit like a mini spray gun. I used that a lot when I am priming terrains. The fan aircap needs 20 PSI or more, so be aware that some small compressors may not be strong enough. Again, this is great if you are planing to spray on large area.
Paasche Talon Airbrush Review: Cleaning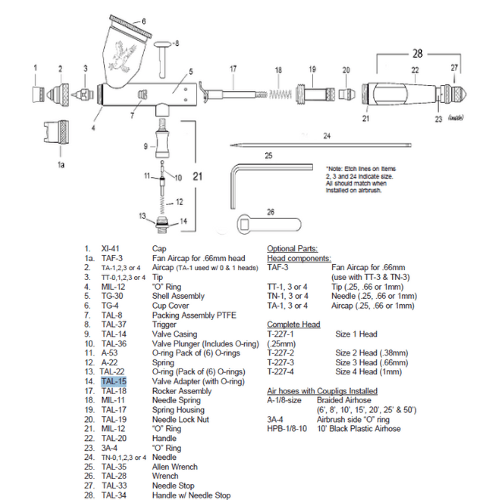 The Paasche Talon airbrush is very well made, and the parts are easily disassembled for cleaning. Using nylon brush cleaner, I found the cleaning process straight forward.Needles are stainless steel & the needle packing is PTFE. You can use any type of airbrush cleaner really.
Conclusion for Paasche Talon Airbrush Review:
The Paasche Talon is a fantastic airbrush nicely put together at a very reasonable cost. The set with three needles\nozzles plus the fan aircap, wrenches and air hose (with adapter) comes at less than 120$.
And it is made in the USA. Replacement parts are easy to get , and cheaper than Iwata parts. It's great that all the parts are compatible with the other Paashe line like Raptor and Vision.
The Paasche Talon airbrush as very versatile and is capable of doing a wide range of spray patterns with the three different head size (0.25, .28, .38)
The Paasche Talon feels really like a solid airbrush. The balance is right in your hand, it can be compared a bit like the Badger Patriot 105 feels in your hand.
I definitely recommend this airbrush, you won't be disappointed.
Was this post helpful?
Let us know if you liked the post. That's the only way we can improve.